Commercial – High Rise/Multi unit Residential
Regardless of the project type, Doering Building Group can provide professional services from concept through design, development, pre-construction, and construction for new and renovation projects. We are custom home builders, Doering Building Group offers owners value added services through;
Pre-construction Services.
Added value starts with our pre-construction process, which shortens schedules, generates cost savings, and minimizes changes.  Working in cooperation with clients and design teams during the early planning stages allows DBG to realize project goals and exceed owner expectations.  Our approach is to include input from experts in all areas to ensure that all critical items are proactively addressed before the start of construction.  The end result is that Doering Building Group's pre-construction expertise on pricing, scheduling, materials, building systems and construction methods deliver projects of best value for clients.
Project Management Services
With an expert Project Manager working on your behalf, you can be sure the job is being done properly and professionally. Below are photos of Crestview Public School.
What a Project Manager can do for you:
Advise you on the best use of your money
Help you to stay within your budget.
Create project specifications customized to your job, so the sub trades can give you realistic, economical quotes.
Oversee the competitive bidding process.
Ensure all of the necessary materials and labour estimates are included to complete the project successfully.
Supervise and coordinate all work.
Inspect all completed work before any money draws are issued.
Make sure all necessary municipal or town permits are issued and inspections are completed.
As project managers, Doering Building Group has successfully delivered many large and diverse projects.  As a result of this experience, we are committed to providing our clients with the highest level of services available today.
List of work – Concrete Remediation, School renovations, School additions, School new construction
Concrete Remediation
London Concrete- In the early 90's a problem with concrete was identified in the City of London.  "Looney-size" pop-outs of concrete with brown, rusty looking dust appeared.  This was a major problem in many areas where concrete was used.  Analysis revealed that a substance known as sintered dolomite, a by-product in the manufacturing of steel, had been mixed with the concrete.  This problem was traced back to a truck supplying the concrete that had not been properly cleaned prion to receiving the concrete for the batching plant.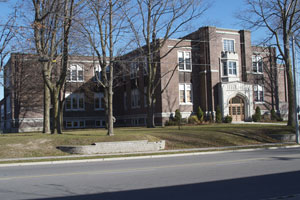 The problem affected a new condominium project and approximately 120 new homes in different subdivisions across London.  The builders of the new homes agreed that ONHWP should devise a strategy to deal with the affected homes.  Harry Doering was tasked by ONHWP to oversee this remedial action.  The remediation work involved the removal and replacement of structural footings, entire foundations, basement and garage slabs – all in homes that were already completed and occupied.  This work involved nearly $1 million in remediation costs plus engineering fees.
---
Testimonial
London Contaminated Concrete Remediation Project:
I thought you should be the first to know that we finally settled the lawsuit.  Thank you for all of your effort and hard work on this project.  It was a great project for you and you did an outstanding job of us.  Anyway Harry, I just thought I would say a quick THANK YOU!  You did a tremendous job on the front line, which made my work here that much easier.
Regards,
Ian Johnson
Vice President,
Ontario New Home Warranty Program
---
Commercial Investors
Condominiums – Multi-Unit Residential
We are experienced in high-rise construction and have won an award for "Best Adult Lifestyle" condominium in Ontario and "Best High-Rise Builder" in Ontario.